Crowns & Bridgework
---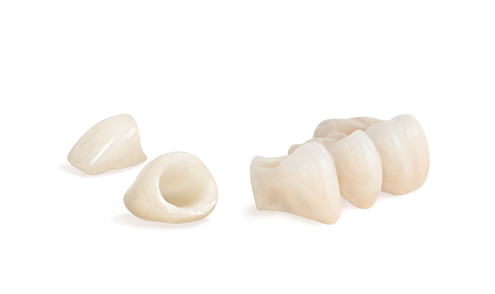 Crowns and bridgework in Grand Junction, CO give patients a chance to improve the aesthetics of a chipped, cracked, misshapen, discolored, or missing tooth. Western Slope Dental Center offers each of these restorations for patients who want to preserve their oral health while obtaining a more attractive smile at the same time.
What is a Dental Crown?
Dental crowns cover the entire chewing surface of a back tooth as opposed to veneers that attach to only the visible portion of a front tooth. Most patients will need to have some of the structure of the tooth removed before our dentist can place the crown. The reason for removing tooth enamel is to ensure that the crown fits over the tooth entirely and remains securely attached. Dental crowns cover the entire portion of a tooth visible above the gum line.
Porcelain is the most common material used to create dental crowns. Patients and dentists alike appreciate porcelain crowns for their longevity and durability. Our dentists take care to match the crown material as closely as possible to the natural shade of the tooth. Other materials we may be able to use to create a dental crown include cast gold, zirconia, and porcelain fused to metal.
What is a Dental Bridge?
A dental bridge replaces a lost natural tooth and requires support from the teeth on either side of it. Our dental laboratory creates three crowns, two of which go over healthy teeth to the left and right of the missing tooth. The two crowns, also known as abutments, provide support for the crown placed between them, called a pontic.
Our dentists determine the number of abutment teeth required based on bone strength in the patient's mouth, location of the missing tooth or teeth in the mouth, how many teeth the patient is missing, and the quality of the tooth roots.
Learn More About Crowns and Bridgework in Grand Junction, CO
Western Slope Dental Center invites anyone who thinks they could benefit from a dental crown or bridge to schedule a consultation to learn more about each cosmetic dentistry option.