Dental Implants in Grand Junction CO
---
Are you missing a tooth or multiple teeth? If so, you could be a good candidate for dental implants in Grand Junction CO. Dental implants are the most realistic dental prosthetics available. At Western Slope Dental Center, we help patients determine whether dental implants are right for them, and we install implants safely.
What to Know About Dental Implants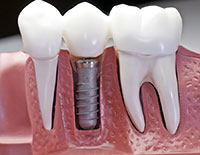 Dental implants can be installed singly, or multiple implants can be installed in one mouth. Before you can get dental implants, you'll have to be evaluated by your dentist in Grand Junction CO to determine whether this dental prosthetic is right for your mouth. Once it's determined that you'll be proceeding with dental implants, your dentist will make an impression of your mouth to send to a lab.
Your dental professional will first install your implant and then later, the pieces that attach to it – the abutment, and the crown. The procedure for installing implants can take many weeks, as your mouth will need time to heal.
Are You A Good Candidate for Dental Implants?
You're a good candidate for dental implants if:
You have good oral hygiene habits.
You have healthy oral tissues.
Your jaw is fully finished growing.
You have good jaw bone structure that would support an implant.
You don't smoke.
You see the dentist on a regular basis to keep your teeth healthy.
Why Get Dental Implants?
Getting dental implants can improve your smile, eliminate any gaps between your teeth, and give you confidence in your appearance. Dental implants also look and function like natural teeth, so you can take care of your dental implants alongside your natural teeth.
Contact Western Slope Dental Center
Dental implants can help improve your oral hygiene and dental health. Gaps in your teeth can cause your remaining teeth to shift. Having an implant can help keep your teeth in alignment, which is good for your smile.
Do you think dental implants are right for you? Contact us today to set up an appointment at Western Slope Dental Center.